Why is it so important to have a strategy?
Growth Strategy
In one of our previous blogs, we talked about perfect-fit, and developing a growth strategy was one of the solutions for finding the ideal clients. Before devising a strategic plan, it would be good to know what you really want, and what type of clients you can best satisfy and enjoy working with.
Your motivation and inspiration for growth
How can we do this for you? First, you should have an idea of:
■ what you really want to achieve,
■ what your wishes and interests are in terms of development,
■ why all this is important to you,
■ who will look forward to your goal achievements,
■ who might suffer because of your goals.
For example, maybe you only want large multinational companies as your customers, maybe you want to increase your sales by 30% in five years, maybe you want to increase the number of your employees, maybe you want to make your employees or stakeholders more satisfied at their workplace by giving them a feeling of a secure future.
To develop a good strategy, we also need to know your motivation or even your inspiration for your future efforts. We need to make sure you have a clear vision or picture of your future that gets you out of bed in the morning.
First things first
The next step is to analyze your:
■ business model,
■ mission,
■ vision,
■ philosophy,
■ and values.
And of course, if you have a strategy from the past that you want to re-evaluate, because it is another important element to start with. Apart from the business model, all the elements are clear and short as shown in the image. In terms of the business model, we analyze the following nine building blocks: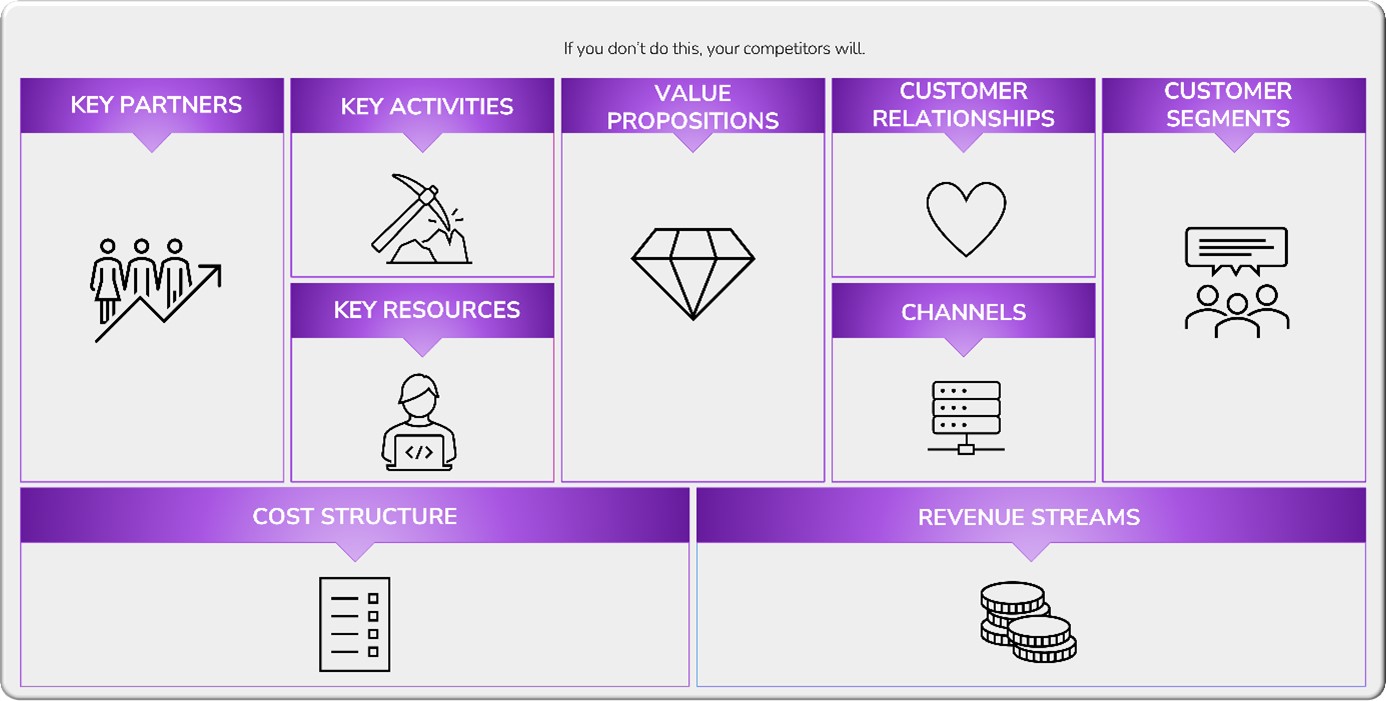 Knowing your core is paramount to successful strategy formulation.
Your internal constellation is the groundwork
Now that we know you a little better, it's time to examine how strong you are to attract new customers and overcome the teething problems of growth efforts. This step involves an analysis of your:
■ internal capabilities,
■ resources,
■ competencies,
■ and competitive advantages.
For example, your general technology, translation tools, machine translation, specialized knowledge, specific processes and workflows, automation and optimization levels, reputation, company culture, etc.
Here we need to see your strengths to capitalize on them, and your weaknesses to turn them into your strengths. Later on, we evaluate your opportunities that you can seize immediately and the threats that need to be addressed. This framework is commonly known as SWOT analysis.
SMART goals for smart achievers
This is the point where we can start talking about your long-term and short-term goals. SMART goals. Goals that are:
■ specific,
■ measurable,
■ achievable,
■ relevant,
■ and time-bound.
Goals that reflect your desires and inner readiness relative to the external market situation. Goals for which there are numbers that tell you if you are on track to achieve them, called KPIs (Key Performance Indicators).
Knowing your target customer well is the key
We move to defining your target customers:
■ who they are,
■ how big they are,
■ what their demographic characteristics are,
■ how many of them are your potential.
More importantly, we find out if you really understand their needs, wants, interests, problems, and hopes in terms of translation and localization.
What is their reason for being in the markets where you are present with your translation and localization services?
What does the company hope to gain from your translation and localization services in those markets, such as finding new customers, training new employees, localizing its software for use by its employees, suppliers, and customers, etc.?
Competitive advantage keeps you at least one step ahead
You should also be aware of how your customers currently address translation and localization needs and solve problems in that regard, how you solve those problems, and how your solution is better than theirs.
What will you do to gain an additional competitive advantage?
Once you know your competitive advantage, you can present your work and value proposition more convincingly.
Every business is unique, and so is yours. Therefore, your customers may have a million reasons to be loyal to you. However, it is a good exercise to analyze your competitors or industry peers to see where you stand, to keep you on your toes, and to motivate you to continue to grow and change to be better than others.
Your external constellation brings the opportunities
Another important element of strategy formulation is the industry or market analysis, which confirms that there is a market need for your translation and localization services, that the market is of significant size, and that there are industry trends that support your company's strategy.
Two important analyses that provide an overview of the industry and macro environment are the Six Forces Analysis (long referred to as Porter's Five Forces Model) and the PESTEL Analysis.
The Six Forces for your 'sixth sense'
The six forces model involves analysis of the following:
Competitive Rivalry – direct competitors
New entrants – potential competitors and barriers to entry
End users/buyers – bargaining power of buyers considering the cost of switching
Suppliers – bargaining power of suppliers
Substitutes – availability of alternatives
Complementary products – the impact of related products
PESTEL, not pastel
PESTEL analysis is a tool that marketers can use to analyze and monitor the macro environment (external marketing environment) factors that impact a company. The result is used to identify threats and weaknesses, which are used in a SWOT analysis.
PESTEL is an acronym for the following factors: P for Political, E for Economic, S for Social, T for Technological, E for Environmental, L for Legal.
Marketing plan as one of your first stepping stones
Next, we develop a marketing plan to determine how your company will enter a new market by discussing your services or products, how you will market and promote them, how you will maximize value to your customers, and where and how customers can purchase your services.
The people who actually do the job
Then we determine the team that will implement the strategy for the identified opportunities. It is critical that each team member has the necessary knowledge and the appropriate hard and soft skills. If skills and techniques are lacking, we together determine how to find the right people for the job and train them.
Operations plan to keep tabs on all activities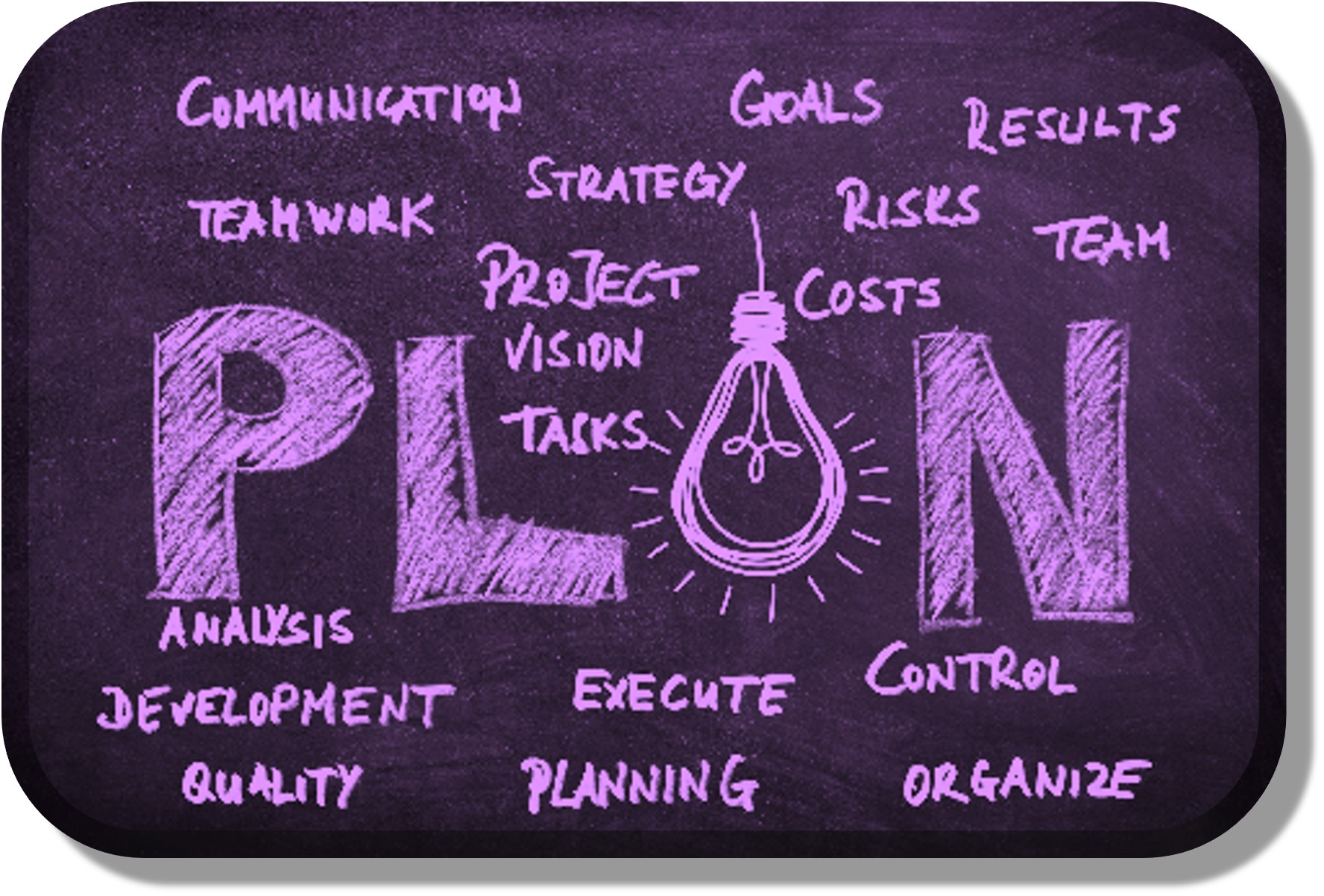 Now that we know your goals, capabilities, and staff, it's time to create your operations plan. An operations plan details the daily activities and processes that will typically be accomplished within a year.
Activities are generally broken down into projects, which in turn can be broken down into smaller, more manageable units. It also specifies who will lead the project, what the schedule will be, and what human, financial, or material resources will be needed.
Financial projections to manage future
Finally, we create financial projections for your future revenue, marketing expenses, HR expenses, and general and administrative expenses.
Your strategy is now ready. In short, you now have an overview of your:
■ strengths, weaknesses, threats, and opportunities,
■ goals and related KPIs,
■ target customers and their needs,
■ market size and trends,
■ key competitors,
■ your competitive advantages and unique selling points,
■ promotional tactics,
■ projects and sub-projects, team,
■ and financial forecasts.
Of course, this is not all we offer. Profecta BDI stays with you as a coach to monitor the implementation of your strategy, to encourage you to take action, to look forward to results with you. You will not be alone.
The benefits of a good strategy:
■ It gives you a clear direction.

■ It will help you shape the culture and structure of your company.
■ It will help you increase operational efficiency.
■ It will help you make smart business decisions.
■ It will help you identify your strengths so you can leverage them.
■ It will help you identify your weaknesses in order to turn them into your strengths.
■ It will help you to recognize your strengths.