How to avoid hiring inefficient sales professionals for LSPs
Marketing and Sales
Are you also having a hard time finding a good sales professional for your LSP? Imagine if you had a Google route to a successful sales professional who would bring you new and good-paying clients. This text could pave the way to your best candidate.
On LinkedIn and other portals like Glassdoor, we often see job postings from LSPs looking for sales professionals, or as they say today, sales development representatives, which shows the tendency to hire more and more sales professionals. However, the graph in the ELIS 2022 survey clearly demonstrates that LSPs have 8% sales professional FTEs, whereas their recruitment plans are rather ambitious and total 35% of their workforce.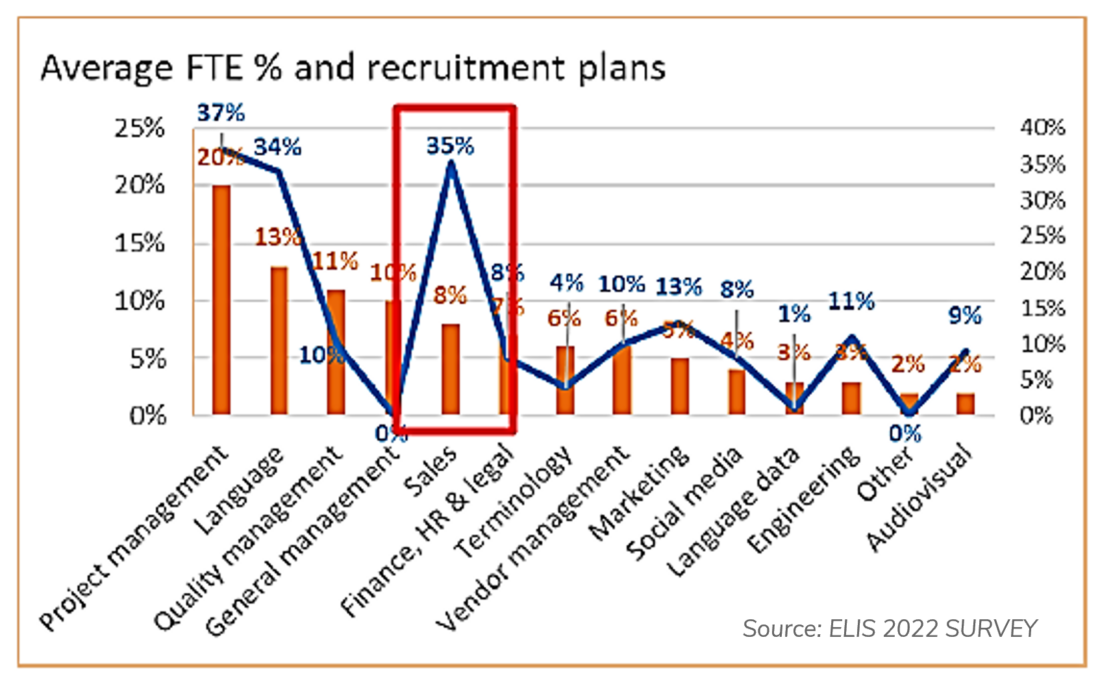 Of course, LSPs want to meet their financial goals and provide long-term stability, but often the professionals they hire don't seem up to the task, and the selection process can be time-consuming and nerve-wracking. That's reason enough to hire the best-fit person who won't leave your organization after six months or even stay for two years with no notable results.
The steps we suggest taking are as follows:
1.     Determine if you really need someone for the job
2.     Calculate the cost of the entire hiring process
3.     Create a psychological profile of a sales professional
4.     Understand the needs of the sales professional
5.     Determine the experience, hard and soft skills needed
6.     Describe a typical day of a sales professional in your company
7.     Post the job offer on job search platforms
8.     Shortlist appropriate candidates
9.     Onboard the most suitable candidate
10.   Mentor new hires and monitor their progress
A detailed description of the steps is as follows:
1.     Determine if you really need someone for the job
First things first. You might consider finding out if you really need a sales professional by looking at the need through the lens of your overarching company goal and business development strategy. Then check if you have the personnel, technical and procedural capacity to take on new clients that the potential sales professional will bring.
■ Can you really handle the new translation volume in parallel with the existing ones?
■ Are your internal processes and workflows flexible enough if the person brings two major projects in the first three months?
■ What exactly do you expect from the sales professional in terms of their contribution to your key objectives?
But also check if someone on your team would be willing to take on this role because they already know your company, the translation industry, and possibly the target industry.
Also ask yourself:
■ How will your business and your life improve if you have a sales professional on your team?
■ To what extent are all of your employees involved in selling your services, since each of you is a potential business developer for your company?
2.     Calculate the cost of the entire hiring process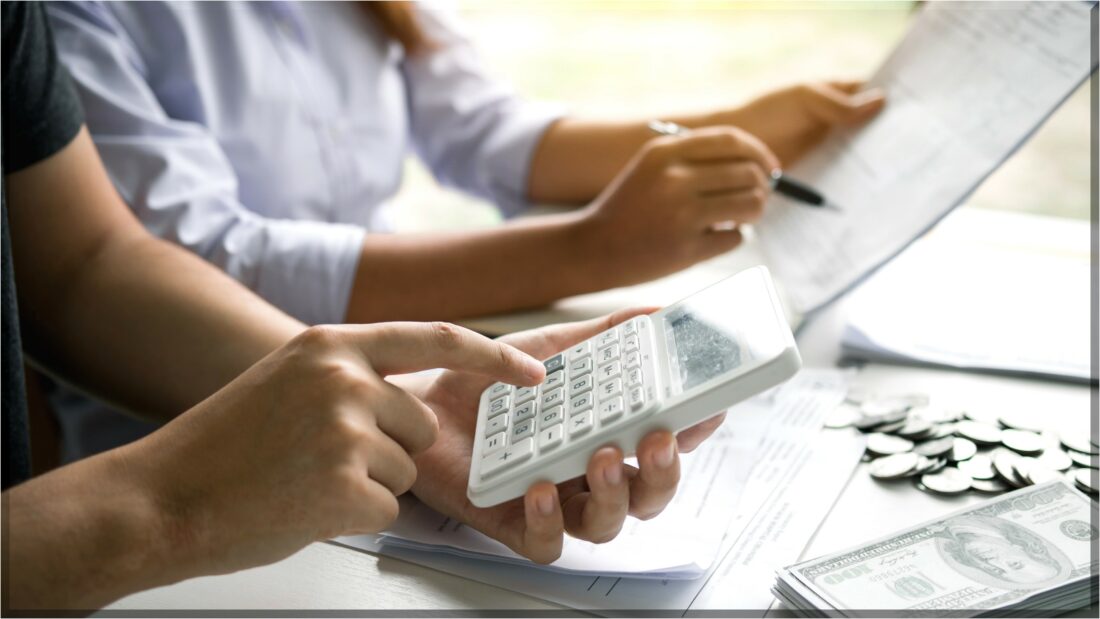 Remember, it can often take months for your sales (and marketing) efforts to bear fruit. According to HubSpot, average tenure of sales professionals is 18 to 20 months. This can be an issue because sales professionals usually reach their peak performance after two to three years in their role. This means that most sales professionals leave before they have reached their maximum potential.
Nevertheless, it can't hurt if you calculate how much:
■ twenty-four gross salaries,
■ commissions and bonuses for closed deals,
■ laptop and other perks a sales professional might cost,
so you're aware of the total investment. And if the worst-case scenario occurs, i.e. no new clients, for example, in more than six months, would you be willing to deal with that harsh reality?
Do you have an idea what you can do NOW to prevent lousy results?
Also, don't forget to factor in the cost of the time you'll spend on all the job preparation, resume analysis, interviewing, negotiating, and the employment contract (and the cost of creating one if you don't already have one), as well as onboarding.
3.     Create a psychological profile of a sales professional
If you're sure you need a sales professional and can afford the position, it may be wise to design a sales persona, just as you design a buyer persona for marketing. Finally, the new hire should fit in with your team and existing customers, because sales professionals need to communicate effectively with everyone inside and outside your company.
In terms of his or her psychological profile, the ideal sales professional should be:
■ goal-oriented and forward-thinking, with an eye on long-term effects
■ motivated by results, rewards and benefits
■ good at managing time and priorities
■ good at listening and reading minds
■ communicative, open-minded and personable
■ proactive in dealing with people via email and telephone
■ willing to take immediate action, as opportunities often cannot wait
■ adaptable to feedback from customers and co-workers
■ enthusiastic about options and alternatives rather than procedures and processes
In stressful situations, which are more or less standard in the translation industry, the professional should focus on the following:
■ thinking clearly,
■ rationalizing the situation, and
■ keeping a cool head.
The ability to look for possible alternatives and deal with emotional reactions when stress occurs is a big plus.
4.     Understand the needs of the sales professional
A sales professional is also a human being. Take into consideration their needs in terms of their:
■ Family concerns
■ Virtual or hybrid work flexibility
■ Work-life balance
■ Ability to relocate
■ Outside interests
■ Career stage
■ Current career path
■ Promotion aspirations
■ Performance rewards
■ Training and re-training
■ Lifestyle and philosophy
5.     Determine the experience, hard and soft skills needed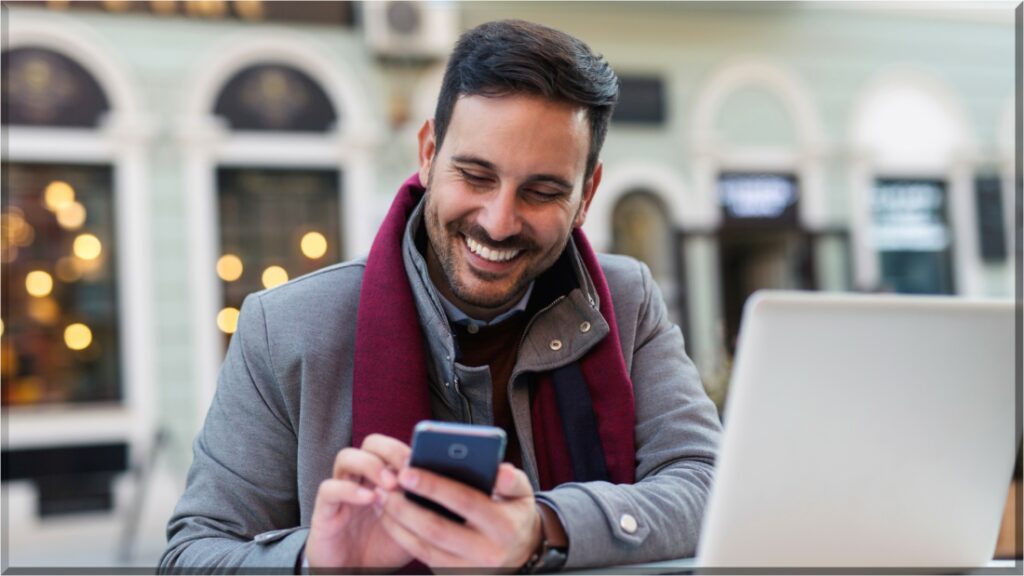 At least three years of experience in selling translation or similar services is desirable, but keep in mind that such professionals are few and far between. If there are no such candidates, focus on their psychological profile and their desire to do the job, because such people can learn quickly if properly stimulated.
As regards knowledge and hard skills required, focus on:
■ Knowledge of the translation and localization industry
■ Business-to-business sales and marketing
■ Sales pitch preparation and execution using presentation tools
■ Cold and warm calling
■ Spreadsheet analytics basics
■ Foreign languages
■ Education or training in the field of business, MBA, economics, and the like
As regards soft skills, pay special attention to:
■ Written, oral and non-verbal communication
■ The art of persuasion
■ Active listening
■ Cognitive empathy
■ Emotional intelligence
6.     Describe a typical day of a sales professional in your company
Once you have found the appropriate solutions to the above points, you should describe the typical daily, weekly, and monthly duties and responsibilities of a salesperson. This will give the potential candidate insight into your processes and expectations. Those who feel that this position is right up their alley will readily apply, and those who don't really fit will shy away from the position. And thus save your precious time.
7.     Post the job offer on job search platforms
Once your job description is ready, make sure you publish the job posting on appropriate platforms according to legal and other relevant requirements.
The most popular job search websites for sales professionals are:
1.   Linkedin
2.   Glassdoor
3.   Glassdoor and Indeed combined
8.     Shortlist appropriate candidates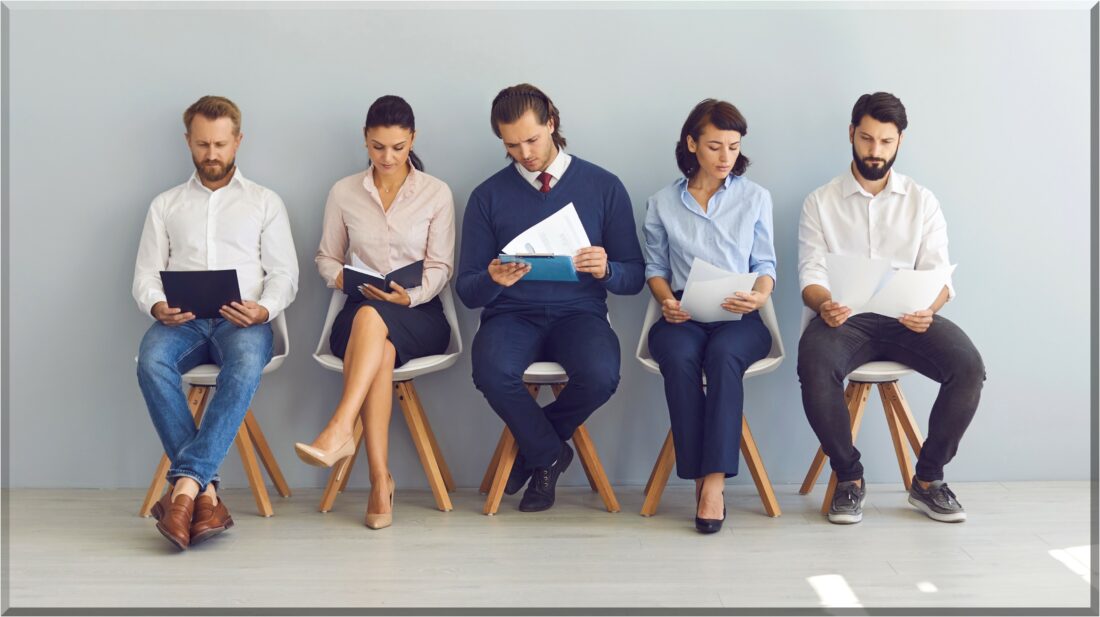 The selection process can be rather time-consuming so you might plan your steps ahead and namely:
1.     Screening cover letters, résumés, applications, and social media of candidates
2.     Preliminary selection of candidates who meet the necessary conditions
3.     Situational and panel interviews with the candidates focusing on a sales situation in your company
4.     Background checks and affidavit
5.     Job knowledge tests based on a specific sales assignment in your company
6.     Reaching the final decision
7.     Notifying candidates about the decision
What might make your life easier in the selection process is an evaluation grid like the following, in which you can rate candidates on a scale of 1 to 10 based on the knowledge and skills mentioned earlier, as well as tests you might want to include.
Exemplary table: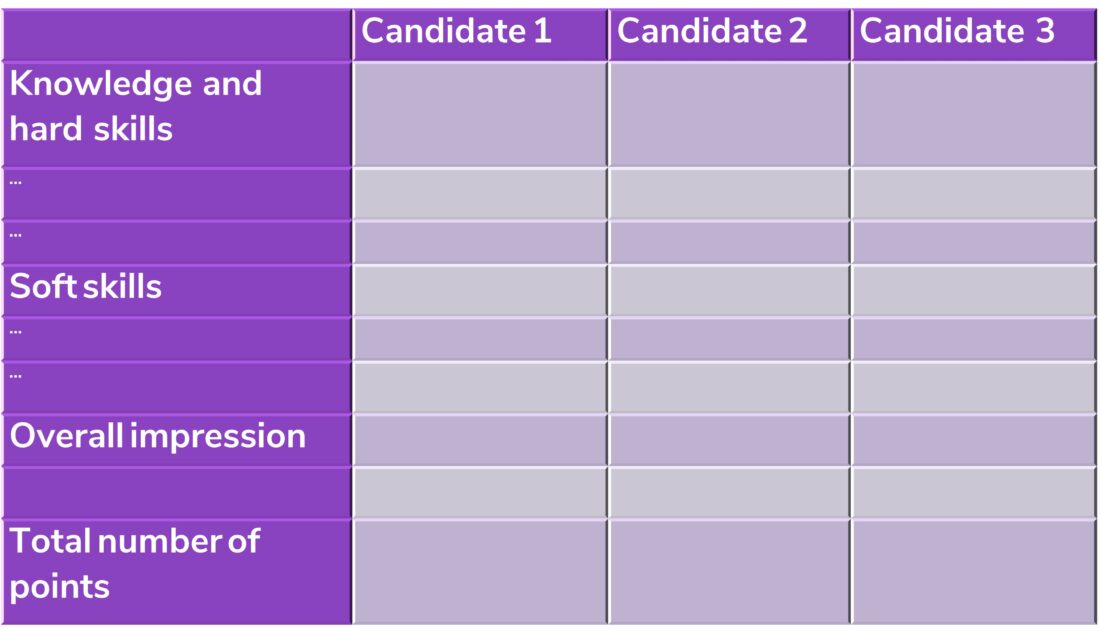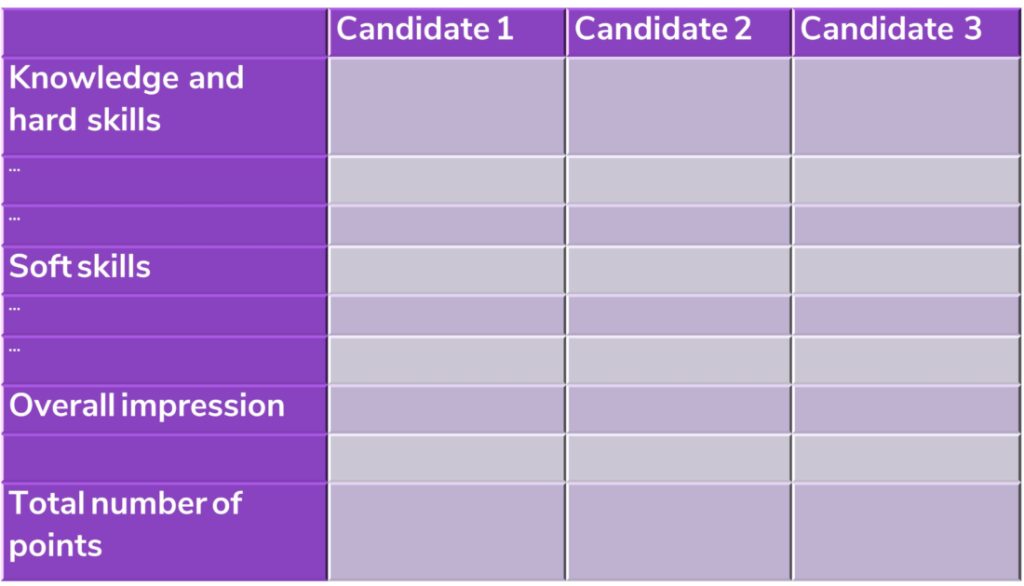 The following questions might help you reach the best decision:
I.         Should the sales professional be hired according to their highest potential or according to the needs of the organization?
II.       At what grade or wage level should the sales professional be started?
III.     Should the selection be concerned primarily with finding an ideal employee to match the sales professional job, or should a candidate's potential for advancement in the organization be considered?
IV.     To what extent should those who are not qualified but are qualifiable for the sales professional (i.e. have potential) be considered?
V.      Should overqualified individuals be also considered as sales professionals?
9. Onboard the most suitable candidate
Once your ideal candidate is in the house, make sure you provide the necessary knowledge regarding the following areas:
■ General knowledge about the company, its people and its customers
■ Strategic initiatives and growth plan
■ Internal workflows and translation technology
■ CRM or any similar system
■ Billing options and pricing strategies
It might be worthwhile to create a playbook for the best practices and the above areas if your time and energy allow it.
10. Mentor new hires and monitor their progress
Involve your sales professional in your mentoring program by assigning them an experienced colleague for two months, if there is one. If there are no experienced colleagues, you can set up a mentoring team that includes the company owner, the general manager, and the project manager, for example.
To monitor progress, you can hold weekly meetings and feedback sessions on communication and expectations during the probationary period, if you have one set.
Selling translation services isn't that easy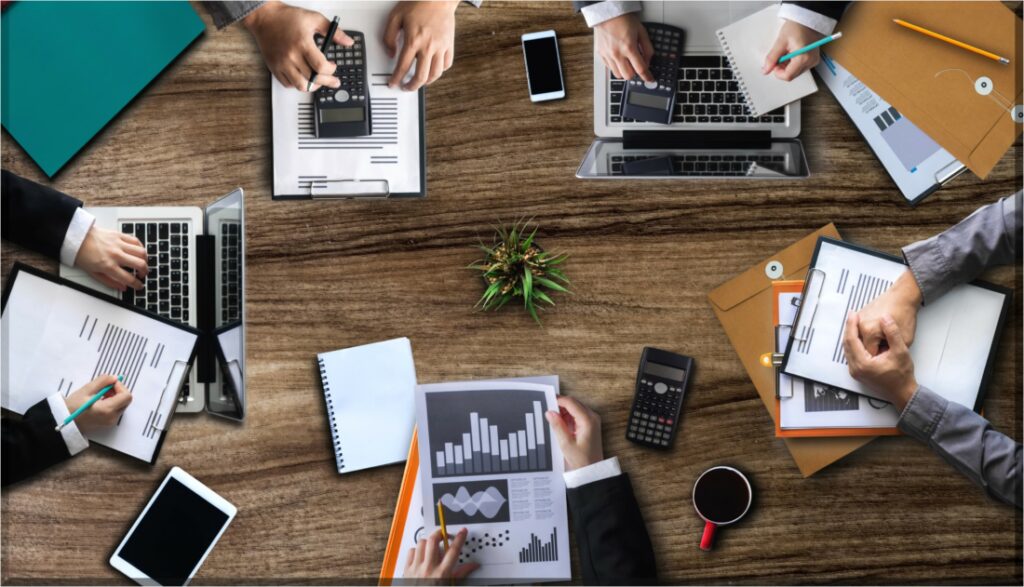 Keep in mind that selling translation services can be a hassle because clients buy a pig in a poke, as they can't know in advance what the outcome will be. So, they have to trust in your words and that your translated words will bring them success.
Successful business deals depend heavily on the way you present your company's services and the appropriate pricing. In addition, the value of translation is often not perceived as an immense factor in customer success. Therefore, explaining value and value-based pricing can be a difficult task for your new sales professional.
If you want to learn more about selling translation services, sales psychology, and techniques you can apply immediately in your business, you might be also interested in our workshop Reinforce your sales.
You will also learn how to avoid loosey-goosey practices that might be holding you back from acquiring new clients.
What is also unique about this workshop is that is almost like a one-on-one coaching session, as the number of participants is limited to five and your current situation is analyzed.